Making Your Herb Garden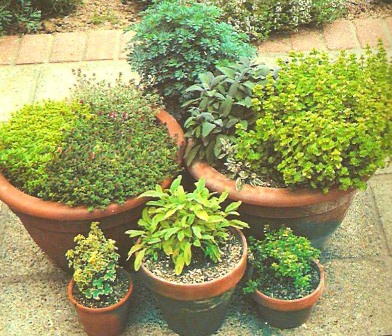 Revitalise your own life energy by nuturing plants to grow and thrive. As the earth awakens in Spring, reconnect with the vital forces of nature by nutiring your own plants. If you are short of time and space, create a mini potted herb garden or window box. By summer you will be able to harvest your own fragrant medicianl herbs. You will also gain peace of mind, knowing that your herbs are organically grown.
Making Your Herb Garden
1. Place a few pieces of broken crockery or gravel at the bottom of a pot to improve drainage.
2. Fill the pot to two thirds deep with a mixture of 3 parts compost and 1 part gravel.
3. Water the potted herbs well, then carefully slip them from their containers before arranging in the pot.
4. Add more potting mixture and top with decorative gravel.
5. If kept indoors, place in a sunny, south-facing position and water regulary. Once established, trim the herbs to use.