Making Aromatherapy Inhalers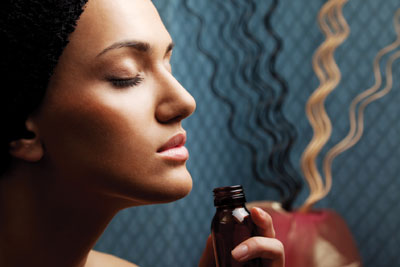 WARNING!
If you have epilepsy, do NOT inhale Fennel, Rosemary or Sage.

Check contraindictions for each oil if you have asthma.
Be careful with neat oils close to the eyes.
If pregnant, do NOT inhale Chamomile, Frankincense, Basil, Cedarwood,
Peppermint, Clarysage, Mellissa, Cypress,
Jasmine, Juniper, Thyme, Myrrh,Geranium,Marjoram or Rosemary.

Inhaling aromatherapy oils is a highly effective way for you to benefit from their healing qualities without the need for specialist equipment. Most aromatherapy oils evaporate relatively quickly if left in the open air, which allows you to inhale them directly from the bottle, or from a few drops sprinkled on a handkerchief. Simply by carrying tissues and a small bottle oil in your pocket, you can provide instant relief from blocked noses, panic attacks, fatigue, travel sickness and the nerves you might experience before an exam or job interview.
Inhaltion is the most effective way to absorb the volatile ingredients in essential oils, which are the most active constituents. Direct inhalation can be beneficial to many conditions, but is most commonly used to treat colds and flu. Sniffing the oil helps keep the sinuses clear and eases congestion of the throat. It can also bring up phlegm that is sitting in the lungs and ase a throbbing head. Direct inhalation is also good for headaches, tension and asthma (though not in steam)